Question 83


Difficulty
Easy
Skippable?
Yes
Bomb?
Yes (7 sec)
Reference
The Miracle of Maggot Birth (Splapp-Me-Do)
Safe Question?
No
Fusestopper location
N/A
Skip location
N/A
Question 83 from the Impossible Quiz 2 has nothing on screen at first sight, other than a 7-second bomb in the usual spot. However, if you hover your mouse around the screen, you'll see that a great part in the middle of the screen is an interactable object, while the surrounding parts are not. There's no proper task that tells you what to do.
Simply enough, all you have to do is to click and hold the left mouse button while in the middle of the screen, and drag it away, revealing below it a crater or hole with a single maggot, next to which is an arrow and the word "Next" written in the dirt. Click it to proceed.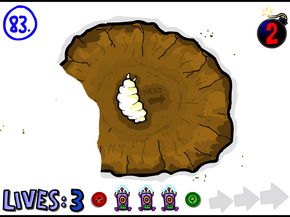 Trivia
This is the last main question to be neither changed or replaced.
Ad blocker interference detected!
Wikia is a free-to-use site that makes money from advertising. We have a modified experience for viewers using ad blockers

Wikia is not accessible if you've made further modifications. Remove the custom ad blocker rule(s) and the page will load as expected.