Question 77


Difficulty
Easy
Skippable?
Yes
Bomb?
No
Reference
None
Safe Question?
No
Fusestopper location
N/A
Skip location
N/A
Question 77 from the Impossible Quiz 2 originally appeared in the Demo of the first Quiz, as Question 25. It says "Which of the following are you most likely to see in America?", with the possible answers being "A fat bloke", "A gun", "A cowboy" and "Lettuce".
The correct one is still "A fat bloke", since the question is actually making a joke out of the common perception of the USA being linked to Consumerism (or, put in different words, fat people).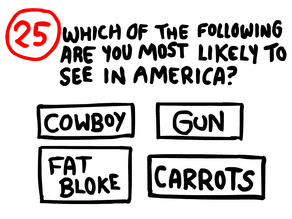 Ad blocker interference detected!
Wikia is a free-to-use site that makes money from advertising. We have a modified experience for viewers using ad blockers

Wikia is not accessible if you've made further modifications. Remove the custom ad blocker rule(s) and the page will load as expected.