Question 62



Difficulty
Easy
Skippable
Yes
Bomb
No
Reference
None
Safe Question
Yes
Fusestopper location
N/A
Lifebuoy location
N/A
Question 62 from The Impossible Quiz Book is the twelfth question of the Book's second Chapter, and the second one of the ZX Spectrum/Splapptrum era of video games. This time around, you're presented with a leg wearing a shoe and an unknown somebody's bare bum, both drawn in pixelated graphics, of course. The question's task says "Kick some arse", and there are no clickable objects on screen, so don't worry about losing lives here.
To complete this question, you need to press the left and right arrow keys over and over again, successfully kicking this bum until you make it bleed. You will then continue to the next question, your bottom completely unharmed.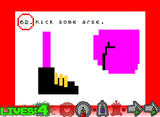 | | |
| --- | --- |
| | This is a safe question. This means that players cannot lose any life or get a game over in this question. |
Ad blocker interference detected!
Wikia is a free-to-use site that makes money from advertising. We have a modified experience for viewers using ad blockers

Wikia is not accessible if you've made further modifications. Remove the custom ad blocker rule(s) and the page will load as expected.