Question 58


Difficulty
Medium
Skippable?
Yes
Bomb?
No
Reference
None
Safe Question?
Yes
Fusestopper location
N/A
Skip location
N/A
Question 58 from the Impossible Quiz 2 contains no actual question, task or options on screen, aside from the question number, your lives and your power-ups. You're presented with the dark and empty-looking space, with a lot of stars on sight, as well as some ocassional shooting stars.
For the most time you won't see anything happening, though occasionally you might see a sleeping Mars flying by, or the dancing cylinder from "Cylindrical Adventures" riding a space vehicle across the screen, or a Spatulon spaceship zooming by. There is not a single clickable object on screen though, despite all of this stuff passing in front of you.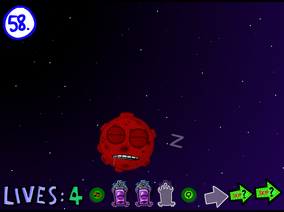 What you have to do is actually way easier than whatever you thought you had to: since you're in the middle of the space, you have to press the "Space" key on your keyboard! Do it, and you'll be transported to the next question screen.
Mobile version
Question 58 (iOS)


Difficulty
Medium
Skippable?
Yes
Bomb?
Yes (10 sec)
Reference
"Who's On First?" (Abbott & Costello routine)
Safe Question?
No
Fusestopper location
N/A
Skip location
N/A
Due to the lack of a keyboard, this question was completely omitted from the iOS release of The Impossible Quiz 2. A brand new question took its place, saying "Who's on 3rd base?", along with a 10-second bomb. The possible options are "Who", "I don't know", "What" and "Dennis".
The answer is "I don't know", due to the comedy sketch, "Who's on first?", by Abbot and Costello.
Trivia
There are a handful of questions in this Quiz that require you to press a single key on your keyboard to proceed, namely:

Question 7: Press the right arrow key ("Use the right key!").
Question 27: Press 1 ("Quick! Press one!").
Question 86: Press U (the letter of the alphabet next to T).

The Impossible Quiz Book also has many questions where you only need to press one key corresponding to the content:
Ad blocker interference detected!
Wikia is a free-to-use site that makes money from advertising. We have a modified experience for viewers using ad blockers

Wikia is not accessible if you've made further modifications. Remove the custom ad blocker rule(s) and the page will load as expected.