Question 52



Difficulty

Easy

Skippable?

Yes

Bomb?

No

Reference

Troll toys

Safe question?

No
Question 52 from the Impossible Quiz presents you with a single word: "Carrot!". There are four green batches of leaves coming from the soil on the lower part of the screen, each of them belonging to either a vegetable or something completely unrelated.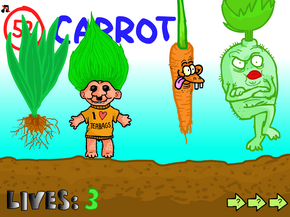 You simply have to find which of these batches of leaves is the one that belongs to a carrot. Below are what the four choices really are:
On the very left, the choice has leaves at the top, but there is no vegetable
On the center-left, it's a troll toy. The green at the top is supposed to be green hair. The troll has a hitler mustache and a shirt saying "I ♥ teabags".
On the center-right, it's a carrot with a goofy face. This is the answer you're looking for.
On the very right, the choice is "just a… thing. An impatient looking thing.", according to Splapp-me-do himself.
Clicking any of the leaves will harvest whatever they belong to. So click on the third batch of leaves to harvest the carrot and then proceed.
Trivia
This is the only question of the game where the word "Lives" in the bottom left corner of the screen was altered to look different.
In the Impossible Quiz cheat sheet, Splapp said that he traced a carrot's leaves for this question.
Ad blocker interference detected!
Wikia is a free-to-use site that makes money from advertising. We have a modified experience for viewers using ad blockers

Wikia is not accessible if you've made further modifications. Remove the custom ad blocker rule(s) and the page will load as expected.