Question 17


Difficulty
Easy
Skippable?
Yes
Bomb?
No
Reference
None
Safe Question?
No
Fusestopper location
N/A
Skip location
N/A
Question 17 from the Impossible Quiz 2 contains a single command that will appear briefly on the screen, saying "Brown!", before fading away. Six balloons will then appear from the lower edge of the screen, floating upwards.
Five of these are red, and only one of them is brown. All you have to do is to touch the brown balloon with your mouse (you don't have to click it), and you will hear it popping before moving on to the next question.
If you accidentally touch a red balloon or just let the brown one float away (out of the screen), you'll lose a life, and the balloons will appear once again in the lower edge of the screen.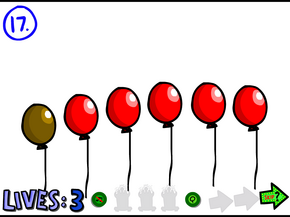 Ad blocker interference detected!
Wikia is a free-to-use site that makes money from advertising. We have a modified experience for viewers using ad blockers

Wikia is not accessible if you've made further modifications. Remove the custom ad blocker rule(s) and the page will load as expected.