Question 114


Difficulty
Easy
Skippable?
Yes
Bomb?
Yes (12 sec)
Reference
None
Safe Question?
No
Question 114 from the Impossible Quiz 2 is the fourteenth question of Chris's Incredible 20, and it's a 12-second bomb question. The player presented with a close-up of Chris's face, showing off his teeth (which somehow look darker than his fur colour) and a toothbrush with toothpaste on the right edge of screen.
The player's task is simple: all the player has to do is brush his teeth, by either repeatedly pressing the left and right arrow keys on the keyboard or just holding down both of the keys. That way, the player will make them look cleaner and eventually make them fall off, until Chris is left with only six of his teeth.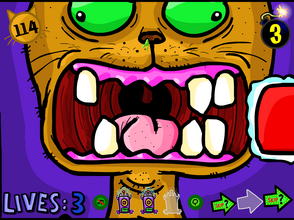 Mobile version
Due to the obvious lack of a keyboard (and therefore, no arrow keys), this question was removed entirely from the iOS version of The Impossible Quiz 2. To make up for this, the original Question 115 ("What's Chris's favourite day of the week?") took the spot of number 114.
Trivia
The question number on the sign Chris is holding is in digital form.
Ad blocker interference detected!
Wikia is a free-to-use site that makes money from advertising. We have a modified experience for viewers using ad blockers

Wikia is not accessible if you've made further modifications. Remove the custom ad blocker rule(s) and the page will load as expected.